Crimson Trace has released the Rail Master, a universal rail-mounted laser for pistols or rifles. The key word that makes the Rail Master awesome? Universal.
The little (and I do mean little, it weighs practically nothing) laser can be easily mounted on pretty much any rail, making it perfect for those who can't get Laser Grips for their pistol or those who don't want the bulk of the grips or the weight of a Laser Guard. For me? I think it would be awesome on a rifle rail.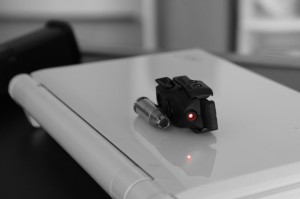 The one down side of opting for something like the Rail Master over regular Crimson Trace Laser Grips is that the Rail Master is activated by a switch rather than the instinctive activation most of Crimson Trace's products utilize. The switch is easy enough to use and fully ambidextrous; there's a paddle on either side of the Rail Master that is pressed to turn the laser on, but it's one more thing to think about in a high-stress situation. On the other hand, something Caleb pointed out, there are no light "NDs", although in my mind if I'm drawing my gun I'm going to be shouting and trying to do anything I can to illuminate the area and a little bit of laser really isn't going to hurt me any. I guess it depends on how tactical you are.
The Rail Master has over four hours of battery life, comes sighted from the factory at 50′ and weighs next to nothing. It fits a pistol, rifle or shotgun with a M1913 Picatinny or Weaver accessory rail. That means 1911s with rails, most 3rd Gen Glocks, 4th Gen Glock 17s and 19s, HK P30s, M&Ps, Sig P220, P226, P229, the Ruger SR series, Springfield XDs and XDMs and pretty much any other rail-equipped pistol.
Light, easy to use and can be mounted on just about anything. I need a minimum of 4.